Evidence of Our Community Improvement Efforts
Beech Interplex has been involved with several projects in and around the Cecil B. Moore Community since its foundation in 1990.
These projects have focused on improving the community and its surrounding neighborhoods to facilitate positive change for the residents.
To complete these projects, Beech Interplex has joined forces and collaborated with many Philadelphia organizations as well as fund projects itself. Below are lists of the projects Beech Interplex has participated in.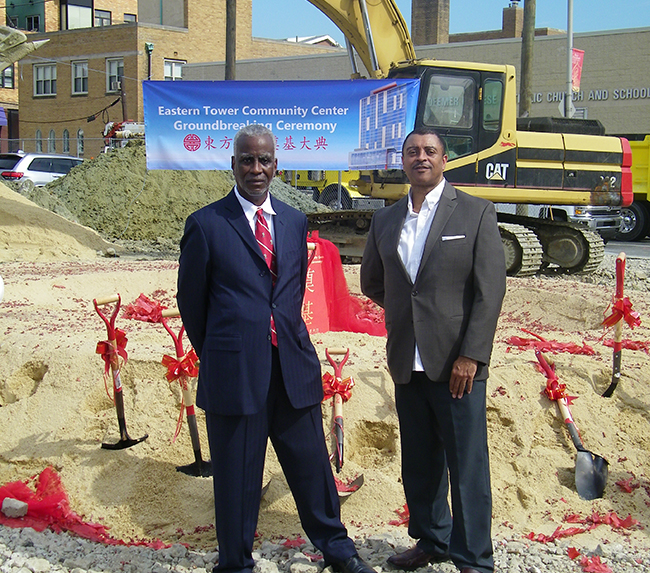 Projects & Collaborations
The following are projects that Beech Interplex, Inc., has completed and/or collaborated with other groups for funding and implementation.
The Google Summit
Beech Technologies is a host partner in the 2014 Google Summit in Philadelphia. The Google Summit is the premiere conference on educating teachers of technology to urban based school districts and students.
Creative Tech Works @ Beech
Creative Tech Works @ Beech is a Coding/Programming Academy for youth 16-21 who live or attend school in North Philadelphia. The program has received national acclaim as a model in Science/Technology/Engineering/Math (STEM).
Beech Homeownership
Built over 1,000 new units of low and moderate housing throughout North Philadelphia.
Beech International
A 50,000 square foot green/smart, mixed-used building for 200 International students and research scholars. The building also contains a garden plaza for entertainment/social activities, office and retail space.
NBC/Beech Television-Radio Studio
In partnership with NBC Television, Beech launched a community television/radio studio in the Beech Interplex building in 2008. The studio is used for live and recorded programming, film production and community meetings.
Other Projects
Construction of a 30,000 sq. ft. mixed use commercial office & retail complex
Construction of a 10,000 sq. ft. childcare services building
Construction of an 8,000 sq. ft. childcare services & retail storefront building occupied by Women's Christian Alliance, Compro Tax & Mahtah, Inc.
Construction of a 10,000 sq. ft. Social Security Administration community office building that provides services to approximately 5,000 persons/month
Completion of a $2 million, Phase I, major systems upgrade, property fasade, auditorium & ballroom restoration to the Legendary Blue Horizon, a 60,000 sq. ft. boxing & entertainment venue
Establishment of a $1 million small business loan fund
Construction of a 21,000 sq. ft. office & retail complex; & the construction of a 16,000 sq. ft. Charter School
In conjunction with the Micro-Enterprise Development Program, acquired $179,000 from HUD to promote neighborhood entrepreneurial development
In conjunction with Temple University, acquired a $1.8 million Department of Education grant to promote community empowerment
In conjunction with the School District of Philadelphia, acquired a $195,000 grant from the State Department of Health to establish a Family Health Clinic at a local elementary school
Academic enrichment program for elementary school Sickle Cell Anemia patients
Stabilization & expansion of the Residents' Association
Construction or rehabilitation of over 300 low-income rental or homeownership units
Immunization campaign in conjunction with St. Christopher's Hospital for Children
Expansion of a local non-profit human services program including establishment of an emergency needs fund
Security storm doors & landscaping for 32 town homes for PHA residents
Fencing and security counselor staff position for a Single Room Occupancy (SRO) facility
Community room & security/counselor at a newly constructed development for homeless families
Joint ventured in the renewal of the facades of a one block long retail-shopping strip
Full-time liaison office for the local business association
Rehabilitation of 300 owner occupied homes, facade treatments & streetscapes
Summer enrichment programs at the Meade & Duckrey elementary schools
Infant/toddler daycare, head start & an after school program at the Meade School
Developed Properties
The following are properties developed by Beech Interplex, Inc.
Beech Interplex Building
The total rehabilitation & restoration of a 30,000 sq. ft. office & retail complex
Beech Care Buildings
New construction of 2 two childcare services & retail buildings, totaling 20,000 sq. ft.
Beechwood Homes
New construction & total rehabilitation of 14 for sale town houses
Alliance for Progress Charter School
New construction of a 16,000 sq. ft. education building
Women's Christian Alliance Headquarters Building
New construction of a 25,000 sq. ft. administration & operations building that houses 240 employees
Social Security Administration Office Building
New construction of a 10,000 sq. ft. community service building housing 26 employees & servicing approximately 5,000 clients monthly
Legendary Blue Horizon
Restoration of the interior & exterior of this historic 60,000 sq. ft. sports & entertainment facility
Cecil B. Moore Housing Rehabilitation Program
Rehabilitation & renovation of 300 owner-occupied properties
Oxford Village
Construction of a 469-bed student housing, multi-family facility adjacent to the Temple University campus
1601 Commercial/Retail Building
Renovation & restoration of a 8,000 sq. ft. multi-use commercial building on 16th & Cecil B. Moore Avenue. The building is occupied by a property management company on the second floor & a restaurant/catering service on the first floor
Avenue North
A community partner of a 300,000 sq. ft. shopping mall that includes a 7 screen movie theatre & retail stores on Broad & Cecil B. Moore Avenue; & a high-rise apartment building located on 1600 N. 15th Street