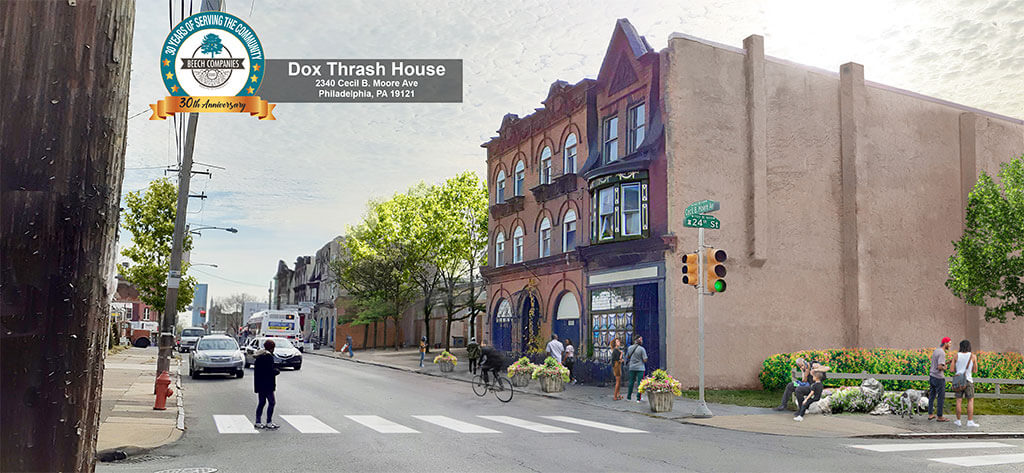 Beech Communities Services acquired 2340 Cecil B.Moore Avenue(Dox Thrash House) in October 2020. Dox Thrash was a distinguished African American artist, and an important figure in the history of printmaking.
Beech Community Services development forecast includes a commercial space on the first floor; 2nd & 3rd floors will be residential lofts studios / living space. The goal is to redevelop the structure because of its historical value to the community: both residential and artist.
Key factors include:
the building was the home of Dox Thrash, a black Philadelphia artist and businessman.
the architecture represents a unique style.
the role the building can have in the revitalization of the Cecil B Moore Avenue Commercial Corridor.
Pending funding, in the summer of 2021 Beech Community Services will release application details to lease both the retail space and lofts studios / living space.
Stay up to date by following the project status here. Please direct all questions to, Akeem Dixon, Project Consultant by emailing adixon@beechinterplex.com.
Thanks to our partners:
Consortium of Cecil B Moore Organizations
LISC
Habitat for Humanity
Dox Thrash Committee
The Preservation Alliance
Downloads
Dox Thrash House Project Resources
Upcoming Events
Stay Tuned
Keep up to date with the latest briefings, meetings and announcements relating to the Dox Thrash House.
There are currently no events. Check back later!